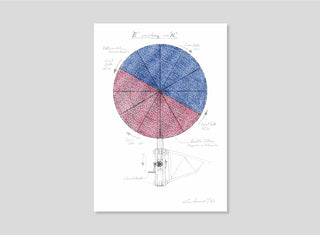 Conrad Shawcross
'E' veiling an 'H'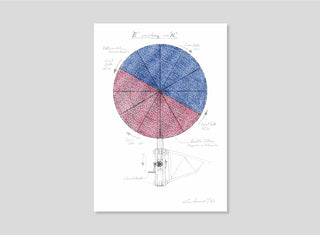 Conrad Shawcross RA is a leading British artist specialising in geometric and mechanical sculptures based on philosophical and scientific ideas. Blending philosophy and engineering, industrialism with nature, you might not think of the artist being the first choice for 8 to 10-year-old children still in primary school. Nonetheless, as part of Pioneering Places, East Kent, Shawcross took part in a competition and pitched ideas to classes in two local schools. He won; the students from Ramsgate Arts Primary School and St Laurence-in-Thanet Church of England Junior Academy working alongside Turner Contemporary commissioned the artist to create Beacons, a sequence of large disc-like sculptures that were installed on Ramsgate's East Cliff in September 2021.
Embodying the themes identified by the children – play and playfulness, caring and modern machinery – Beacons sees four colourful structures guard the grade-II listed East Cliff bandstand. Standing tall – and at first glance resembling 'lollipops', according to the artist – they reference the Royal Harbour's tourist legacy and maritime history both: beckoning viewers towards the historic bandstand, the sculptures also call outwards, towards the sea.
Concealed within the colours and perforations of each disc is a coded alphabet that Shawcross devised with the local students. Each sculpture represents a letter and together they send a message chosen by the children: H-O-M-E.
Here, in Beacons, this new series of limited-edition prints spelling out that very same message, H-O-M-E can be taken home.
A3 print
Photopolymer print on matte 315gsm
42 × 29.7 cm
Edition of 150 (with signed and numbered Certificate of Authenticity)
£180
50% of the net sales proceeds of this print will be paid to Turner Contemporary charity number: 1129974