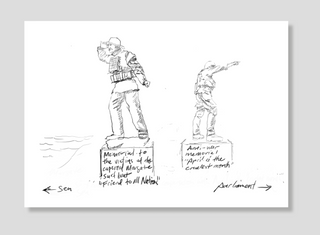 Michael Rakowitz
Print E – April is the Cruellest Month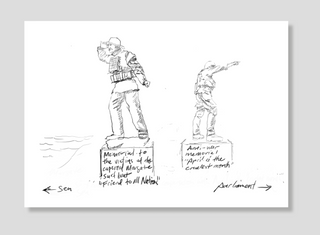 Sketched is a new way to understand an artist's work; a chance to explore their notebooks, sketchbooks and even i-Pads to discover their motivation, process and inspiration. The Iraqi-US artist Michael Rakowitz, who achieved widespread acclaim for his Fourth Plinth statue in Trafalgar Square, started sketching ideas for a new commission from Turner Contemporary and England's Creative Coast, when he was in the UK for a major retrospective of his work at the Whitechapel Gallery in 2019. These 'April is the Cruellest Month' limited-edition prints chart the work's inception and provide a unique insight into the Rakowitz' creative process. Indeed, how can we ever truly separate an artist's process from the "final product"?
Drawing inspiration for the sculpture's material from the nearby White Cliffs of Dover, 'April is the Cruellest Month' is situated just steps away from the shelter where the line was written; T.S. Eliot wrote part of The Wasteland, while recuperating alongside many of the WW1 soldiers who were convalescing in Margate in 1919. Beyond its modernist allusions, Rakowitz' title invokes April 2003, when the US-led invasion of Iraq occurred; when Baghdad fell, and Basra was occupied; "an articulation of what that month means for a place that's far away but is directly affected by the decisions that a country like Great Britain makes," the artist said.
Intended as an anti-war memorial, 'April is the Cruellest Month' also draws on one unveiled in Basra, installed in 1989, consisting of 80 bronze sculptures of Iraqi soldiers who were killed in the Iran-Iraq War; each sculpture pointing across the Shatt Al-Arab river to Iran. When the British Army invaded Basra in 2003, many of the statues were dismantled and thrown into the river. Instead of recreating one of the 80 original sculptures, Rakowitz has reimagined an 81st statue, modelled on the likeness of Daniel Taylor, a British soldier standing in solidarity with the Iraqi people. He is depicted pointing towards Parliament and the Foreign Office in London, where the decision to invade Iraq in 2003 was made. Meanwhile, Margate's Grade-II listed 'Surfboat Memorial' sees a Lifeboat crew member point in the opposite direction out to sea.
Each A3 series of limited-edition prints can be purchased singly or as a portfolio complete with a text from the artist.
50% of the net sales proceeds of this limited edition will be paid to Turner Contemporary charity number: 1129974
A3 Print
Photopolymer print on matte 315gsm
42 × 29.7 cm
Edition of 100 (with signed and numbered Certificate of Authenticity)
£350