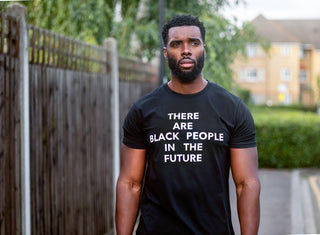 Alisha B Wormsley
There Are Black People in the Future T-shirt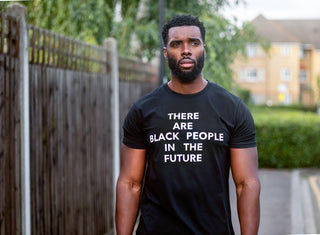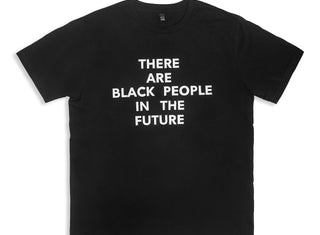 Plinth has collaborated with Southbank Centre to develop a limited-edition T-shirt of Alisha B Wormsley's artwork 'There Are Black People In The Future' for the Hayward Gallery's In the Black Fantastic exhibition.
In 2017, Wormsley placed these words on a billboard in East Liberty, a neighbourhood in Pittsburgh's east end that has suffered gentrification; they have since been splashed across billboards across the US and beyond. 'This phrase became my mantra' says the artist. 'What conversations could arise, what trauma could be addressed, and just seeing something so obvious stated in this social climate is reassuring to some–to me. It becomes magical, as fantastic as a prophecy.'
A portion of the profits from the sale of this tshirt will directly support www.sibylshrine.com , which is an arts collective and residency program Wormsley set up rooted in radical care, rest and support for Black women, womxn, trans women, and femmes who are m/others and identify as artists, creatives and activists in Pittsburgh, Pennsylvania— and beyond.
Fulfilment will be by Southbank Centre.
This T-shirt is made from 100% organic cotton.
Printed in the UK on a unisex style T-shirt.
Available in S, M, L and XL.
Edition of 1000.
£50