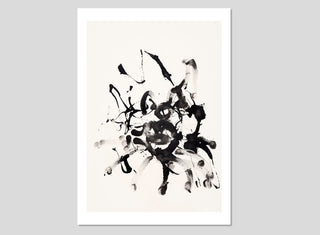 Maggi Hambling
Print I – 6am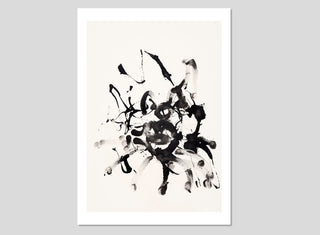 Sketched is a new way to understand an artist's work; a chance to explore their notebooks, sketchbooks and even i-Pads to discover their motivation, process and inspiration.
Maggi Hambling, 6am is a group of nine drawings, bearing witness to a daily act; an early riser, Hambling starts each day in the studio with a drawing – applying black ink straight from the dropper of the bottle onto a blank page. Reproduced here as limited-edition prints, they are mercurial in appearance – variously suggesting bodies, objects and words, but also resisting finite identification.
Compiled from different sketchbooks, the nine drawings in the group represent nine autonomous moments as well as a curated sequence whose recurring motifs and moods suggest coordinates – points that might tentatively be joined: the components of a self-portrait.
Each A3 series of limited-edition prints can be purchased singly or as a portfolio.
A3 print
Photopolymer print on matte 315gsm
42 × 29.7 cm
Edition of 100 (with signed and numbered Certificate of Authenticity)
£300