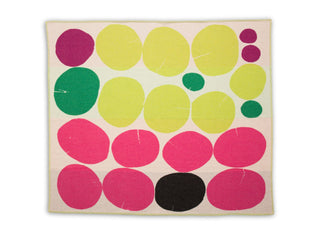 Polly Apfelbaum
Dogwood Leap Blanket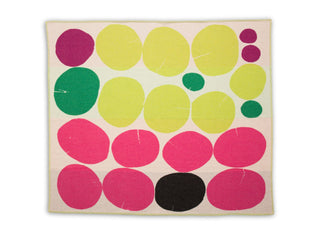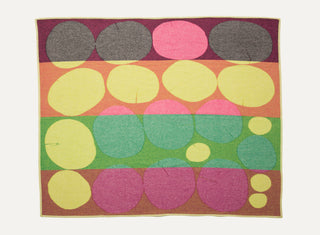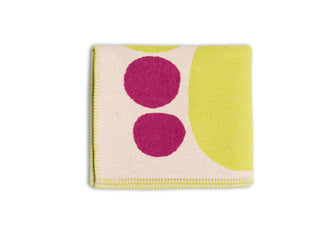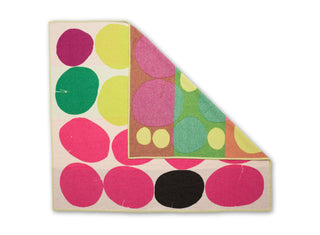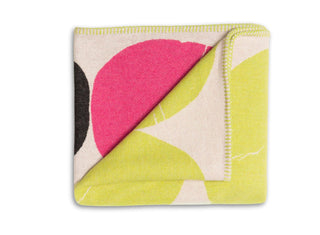 New York artist Polly Apfelbaum, known for her eye-catching colours and patterns in a variety of media, has for the first time in her career created a limited edition blanket titled Dogwood Leap, launched with Plinth in November 2023.
Dogwoods in bloom are synonymous with springtime in the eastern United States. Yet (with a characteristic disregard for rules) Apfelbaum's latest dogwood pattern heralds the beginning of winter instead. Made in the UK on a traditional Jacquard loom, Dogwood Leap is a heavy, recycled wool blanket that brings the artist's light sensibility to the year's darkest days.
Known for experimenting with so-called 'craft' processes, the artist began using dogwoods in her practice during a residency at Durham Press, Pennsylvania, in 2009. One day a branch fell down off a dogwood tree and Apfelbaum decided to experiment with slicing it and using its organic shapes for a series of vibrantly coloured prints.
Read more about the story behind Dogwood Leap here.
Polly Apfelbaum
Dogwood Leap, 2023
145 × 145 cm
60% recycled wool, 26% other fibres and 14% cotton
Hand-stitched edge.
Dry clean only.
Edition of 75.
Certificate of Authenticity Signed and Numbered by the artist
£1000 + VAT