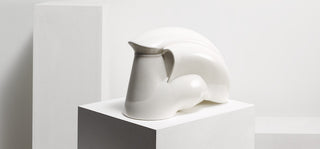 Richard Wilson
In The Studio With Richard Wilson
Richard Wilson RA is one of Britain's most celebrated sculptors.
Born in London, his installations throughout the City take us on an intriguing journey from East to West, beginning with the monumental Slice of Reality, a 70-foot vertical section of a sea-going sand dredger moored at the edge of River Thames at Greenwich Peninsular, following onto his iconic 20:50, a reflecting pool of sump oil, which is permanently installed at the Saatchi Collection in Chelsea, and finally his shimmering, 'Slipstream' based on an aeroplane spiraling through space, at Heathrow's Terminal 2.
Through his work, we explore London's architecture and infrastructure; from the boats and barges along the Thames, right through to art galleries, office buildings and airport terminals, and how we respond to these journeys and spaces. Over the past thirty years, he has exhibited widely throughout Europe, Japan, USA, Australia, Mexico and Russia, with major museum shows and public works.
What is movement? If you get a kid's football comic, there will be a drawing of a white line: which is the line of the ball moved into the corner of the goal.
Richard Wilson
CG
Can you explain your ongoing fascination with capturing movement, from Turning the Place Over in Liverpool (2008), to Hang On A Minute Lads, I've Got A Great Idea on the roof of the De La Warr pavilion in Bexhill (2012) and finally Slipstream at Heathrow Terminal 2 (2014)?
RW
Sensitively choreographed, the teetering bus, or the slipstream of an aeroplane, all give a sense of movement and reference events taking place around the world. My aim is to confront ideas of how sculpture copes with or portrays movement in space. What is movement? If you get a kids football comic, there will be a drawing of a white line: which is the line of the ball moved into the corner of the goal. I am intrigued by that representation of a movement.
'Turning the Place Over' surfaced out of a happy accident. I was building a series of models for 'Over Easy' back in 1999. I had glued a spindle to a round section of window when over night the spindle sagged over at an angle causing a new and exciting 'other' possibility. This ended up 9 years later as 'Turning the Place Over' for Liverpool's Capital of Culture 2008.
A 3D-printer is only a tool - it's the equivalent of a Black & Decker. Owning such a machine now is part of most sculptors' machinery kit.
Richard Wilson
CG
Can you describe the process of making 'Still Life Jug', your new edition for Plinth and Ikon Gallery?
RW
I was rather perplexed because making artist-designed products and limited editions wasn't an area I'd worked in before. I'd actually just bought this jug and thought to myself, "I'm just going to keep it the concept really simple." I started playing around with photos and drawings of the jug tipping but I didn't know what it was going to look like as a form, until we got the 3D model back and I thought, "This is it!" You go from a strange virtual world to glaze and ceramic; lead pencil and paper to a computer. Working with designer Kit Grover, we felt that the finished work should be a ceramic and the last adjustment I made was to keep the handle solid and opening the mouth. Hence the need for fine-tuning.
My thinking process, drawing and model-making get me to a certain point and then I discuss with engineers how to make it. I'm working with people who do 3D-scanning and people who make models and finally with ceramicists who dip 'Still Life Jug' into a translucent glaze.
CG
How did 'Slipstream' influence 'Still Life Jug'?
RW
The concept of capturing movement for 'Slipstream' gave me the knowledge to do 'Still Life Jug' - it's just a jug but it has transformed itself and you've witnessed that movement. It's fascinating because it's so unpredictable.
CG
Can you explain a bit more about your working process?
RW
My world of making starts as a very empirical, tactile world: making, materials, and the feel of something. The way you feel it with your eyes when you look at it, the way you've made it to the best of your ability. However the products are sometimes the result of high technology and CNC modeling that makes it very "other world" and not of the hand in that traditional sense.
The computer can only give you what you put in it. I had to come up with the idea of the tumbling jug - and because my world is one of collaging - if I want a bus, I print out a picture and glue it onto paper. When I was doing my drawing of the jug, I moved it through space using my hand and a camera to record the many moments of travel. Drawing is a delight, you can get euphoric if it goes well.
CG
Do you enjoy experimenting with new technology, such as 3D printing?
RW
A 3D-printer is only a tool - it's the equivalent of a Black & Decker. I employ 3D-modeling to bring the forms up to 1:1 scale and then manipulate their position with each other. Owning such a machine now is part of most sculptors' machinery kit.
CG
Can you describe your studio practice?
RW
When I'm developing an idea, I work from the office at home with the computer, card-modeling facility and a big drawing table. If it's writing, drawing and card, then I'm at home and when it becomes a maquette, I then transfer the project to the studio.
CG
So much of your work is a response to specific buildings and architecture, can you explain this fascination?
RW
I've always needed something to generate my vocabulary of forms – I use my environment to inform me and then I start making work usually as a commission for a specific site. A room is defined by its parameters and its form, which meant when showing in a gallery space I was dealing with the architecture. During the 80s and 90s when with Matts Gallery, I would play with the space by undoing it in some way.
CG
Can you tell us about your current projects?
RW
I've been working with architectural assistant and designer Thomas Randall Page on a major proposal for Hull City of Culture in 2017. We've been working on scale drawings and a Maquette for a month and a half, working out the designs for a 6-metre high stainless steel sculpture, which references Hull architecture.
I am also planning a one-man show in London for early 2017 and working on several competition submissions.